Hi,
We are reviving an old mod called
Roughnecks: Operation Bug Takedown
.
The mod is based on the
Starship Troopers
film and CG television series called
Roughnecks
.
This mod was abandoned before HL2 was even released, and I have created a new team to continue the mod and hopefully finish it.
When the website is finished it will be here: http://crazie.co.uk/roughnecks
To give people an idea of the concept and gameplay of the mod, i'll talk through the process of joining a game and playing through a mission.
First off let me just say the mod will be Co-op (cooperative) Versus AI bugs, (you wont play as the Bugs, only with teamates on the marines)
You join a game and you begin in a 'readyroom' on a starship, a random person or possibly the first person joining the game gets the Squad Leader position, being Squad Leader means you are responsible for equiping your squad before the mission.
The squad leader has access to a computer console on the wall of the ready room, here he can purchase more powerful weapons, armour, vehicles and support for his squads mission, from the shop menu he can select what items he wants to give to whichever member of the squad he likes, for example a map may have 10,000Credits for the Squad Leader to use, and then he may buy 1 Duck Walker Unit for John Doe, 3 Heavy Flamethrowers for other squad members, and extra ammo supplies for the whole squad.
A total of 7,900 credits spent. (for example)
Lets say there are 12 players in this game.
Marine 1
- Duck Medium Walker
Here's a Duck Walker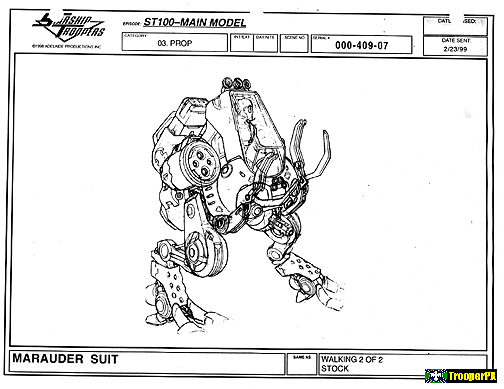 Marine 2
- Flamethrower
Here's a Flamethrower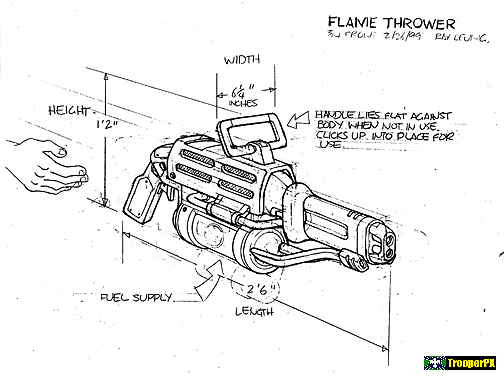 Marine 3
- Mini Nuke
Marine 4
- Morita Weapon Upgrade (+damage of some sort)
Marine 5
- Morita Weapon Upgrade (+damage of some sort)
Marine 6
- Basic Morita Assault Rifle
Marine 7
- Basic Morita Assault Rifle
Marine 8
- Basic Morita Assault Rifle
Marine 9
- Basic Morita Assault Rifle
Marine 10
- Basic Morita Assault Rifle
Here's a Morita Rifle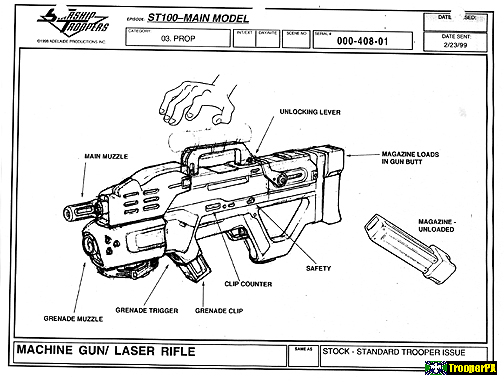 After buying all the upgrades for his squad, he clicks the 'Ready' button on the Shop menu, then all squad members (including him) are sent to the Dropship and seated with their weapons and equipment, they cannot move. The dropship takes them down to the planet and the door will open, players will be able to now go outside of the Dropship.
(Note: while the dropship takes the squad to the planet, a recorded voice will explain the mission objectives)
Here's a Dropship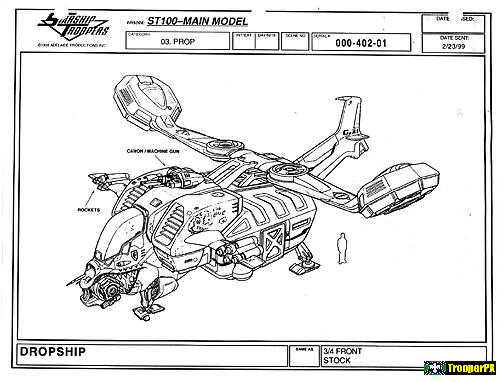 Maps will have critical 'checkpoints' or important locations along the way, so for example if a player joins late in the game, or a player dies, they will respawn back on the Starship, then they must enter a Dropsuit pod which will launch them down to the planet at the last critical checkpoint the squad passed.
Here's a Dropsuit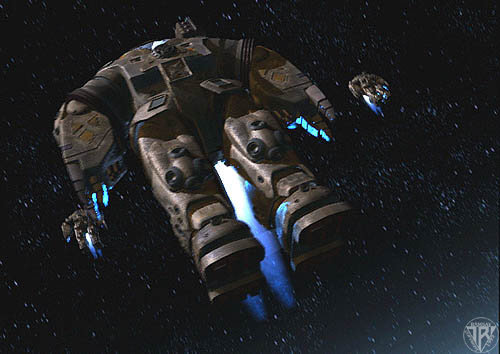 Missions will vary, from having to protect a base until reinforcements arrive, blowing up Bug hives, retrieving data from crashed ships/wrecked bases, to capturing Brain Bugs and much more.
We desperately need modellers, skinners, sound engineers, sprite artists, talented mappers, and a 1male/1female experienced voice actors.
If anyone is interested contact me in any number of ways:
AIM: ElementPSO
MSN: LiquidElement@Gmail.com
Yahoo Messenger: rednova_element
IRC: irc.gamesurge.net / #STMOD (usually on username paradoX)
Also, here's some renders from our models:
More renders here
Thanks,
paradoX