After endless emails to
Valve
demanding a fix to the infamous double crouch jump bug by the Scout in
Team Fortress 2
, the bug has finally been eliminated!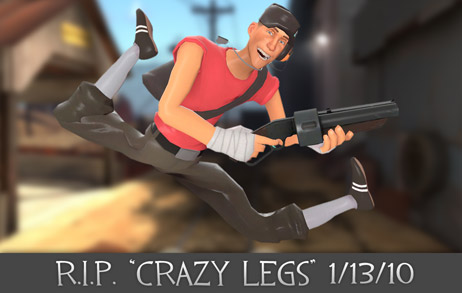 Valve described the bug as '
[The] Scout not being able to double crouch jump without looking like his legs are made of raw bacon strips held up in a wind tunnel
', before declaring it was in fact not a bug at all:
"What a lot of people don't know is that this "bug" isn't a bug at all, but rather an embarrassing result of the degenerative leg disease our motion capture actor, Del Bluskin, has bravely endured for over a decade now, which has turned the lower half of his skeleton into something that looks like two raw bacon strips held up in a wind tunnel.

...Luckily, things have a funny way of working themselves out for the best. Del was hit by a bus this morning."
To read the full hilariously ridiculous explanation, take a visit to the
Team Fortress 2 Blog
.
In other news for those of you in the business of making Team Fortress 2 maps,
TF2Maps.net
has created a new
Swamp Theme Pack
to get your creative juices flowing!